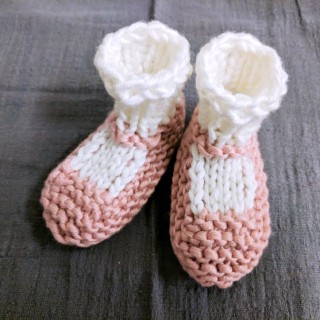 This is a seamless pattern of Mary Jane booties that works in the round – even the straps are seamless! A last-minute gift choice for knitters who hate sewing like I do. :)
Finished Size Measurement
This pattern is only for newborns now. More size options might be added in the future.
Gauge
15.5 stitches = 10cm in stockinette stitch
Materials
Needles
5mm needles or size needed to obtain gauge
(for this pattern, I personally prefer to use a circular needle of about 60cm with magic loop)
6mm needles for strap and bind off
Bulky weight yarn for one pair of booties
approximately 10 meters of sock color yarn
approximately 30 meters of shoe color yarn
Abbreviations
Rnd: round
Row: row
K: knit
P: purl
RS: right side
WS: wrong side
M1R: make one right
M1L: make one left
K2tog: knit two stitches together
P2tog: purl two stitches together
SSK: slip, slip, knit
SSP: slip, slip, purl
yf: yarn forward
sl1: slip 1 stitch as if to purl
Pattern Instructions
Sole
Use shoe color yarn and cast on 27 stitches with Turkish cast on.
14 stitches on one needle and 13 stitches on the other.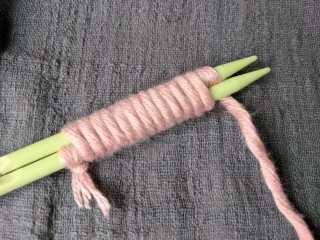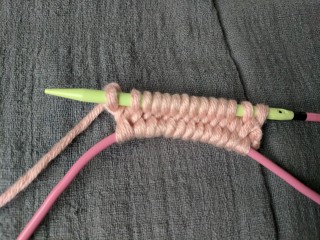 Start working in the round.
Rnd 1: P27
Rnd 2: K1, M1R, K12, M1R, K1, M1L, K12, M1L, K1 (31 stitches)
Rnd 3: P31
Rnd 4: K1, K1R, K14, K1R, K1, M1L, K14, M1L, K1 (35 stitches)
Rnd 5~6: P35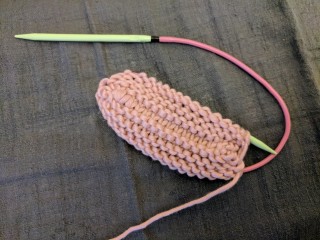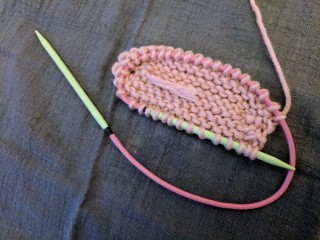 Toe & Heel
Rnd 1: K35
Rnd 2: P35
Rnd 3~6: repeat Rnd 1~2
Instep
From now on we will be working in rows
Row 1 (RS): K14, K2tog, K3, SSK, yf, sl1, turn
Row 2 (WS): K2tog, K3, SSK, yf, sl1, turn
Switch to sock color yarn
Row 3 (RS): K2tog, K3, SSK, sl1, turn
Row 4 (WS): SSP, P3, P2tog, sl1, turn
Row 5~8: repeat Row 3~4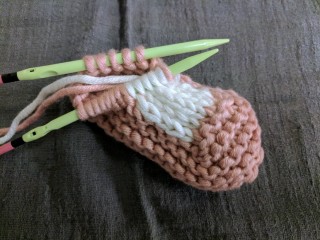 Strap
Switch to shoe color yarn and 6mm needle.
Row 1 (RS): K2tog, K3, SSK, K6 - do not turn this time! (17 stitches)
Row 2 (RS): P4, P2tog, P11 (16 stitches)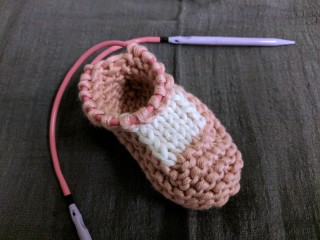 Leg & Cuff
We will be working in the round again.
Switch back to sock color yarn and 5mm needle.
Rnd 1: K16
Rnd 2~8: *P1, K1; repeat from * to end of round
Switch to 6mm needle, bind off with Jeny's Surprisingly Stretchy Bind Off and weave in all ends.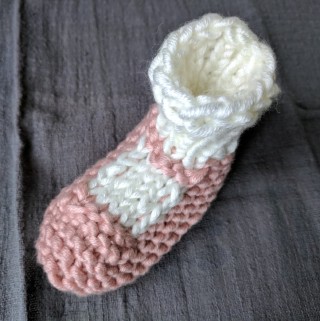 Same pattern for the second bootie.